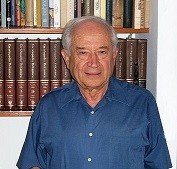 It is with great sadness that I report the death of our editorial board member Raphael Mechoulam, PhD on March 9, 2023. Dr. Mechoulam was a world-renowned scientist known as the father of cannabinoid research. His productive, decades-long scientific career generated many groundbreaking scientific achievements, including the identification of ∆9-tetrahydrocannabinol, the major psychoactive constituent of cannabis, and the first two endocannabinoids, anandamide and 2-arachidonoylglycerol (2-AG). Dr. Mechoulam was also well known for his generous and collaborative approach to science. He mentored many trainees and junior colleagues, collaborated with scientists around the world, and freely shared the numerous cannabinoid and endocannabinoid compounds that he synthesized. The field of cannabinoid research owes him a deep debt of gratitude.
May his memory be for a blessing.
David Gorelick, MD, PhD
Editor-in-Chief
Raphael Mechoulam joined the Editorial Board of the Journal of Cannabis Research in 2020 as one of the world's pre-eminent cannabis scientists and the Lionel Jacobson Professor of Medicinal Chemistry at Hebrew University. Prof. Mechoulam and his team were responsible for some of the major discoveries in cannabis science, for which he was the recipient of several major Israeli and international scientific prizes and honorary degrees. He served as the Rector of Hebrew University of Jerusalem and as president of the International Cannabinoid Research Society.
During Prof. Mechoulam's introduction to the Editorial Board, our Editor-in-chief conducted a short Q&A on his life and research. Please have a read if you would like to learn more about this outstanding contributor to the field of cannabis research.
The Journal of Cannabis Research is the official journal of the Institute of Cannabis Research at Colorado State University-Pueblo, which also enjoyed close ties with Prof. Mechoulam.
As part of the institute's goal to promote dissemination of cannabis research, they organise and host a successful annual international cannabis research conference on campus. Prof. Mechoulam attended the first conference in spring of 2017 and delivered the first annual Mechoulam lecture, named in his honor.
Prof. Mechoulam went on to recommend successive lecturer's for this conference, who included Dr. Vicenzo Di Marzo (Consiglio Nazionale delle Ricerche, Napoli, Italy; and Laval University, Quebec, Canada) in 2018, Dr. Allyn Howlett (Wake Forest School of Medicine) in 2019 and Dr. Roger Pertwee (University of Aberdeen) in 2020.
More information about the ICR and its annual research conference can be found at https://www.csupueblo.edu/institute-of-cannabis-research/index.html.