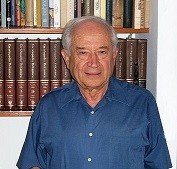 Journal of Cannabis Research is proud to announce that Prof. Raphael Mechoulam of the Hebrew University of Jerusalem has joined its editorial board.
Prof. Mechoulam, one of the world's pre-eminent cannabis scientists, is the Lionel Jacobson Professor of Medicinal Chemistry at Hebrew University.
For more information you can read the full announcement here, or read a Q&A with Prof. Mechoulam here.